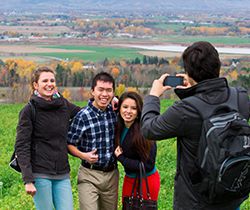 Those who live here already know — we have something very special to offer. Nova Scotians who stay here and study have an incredible range of programs and internationally-respected schools to choose from, right in their backyard.
Those from 'away' with a thirst for adventure find out very quickly what makes this place unique. Nova Scotia provides a warm and welcoming second home to students from across the country and around the world.
Whether you're from near or far, a degree from a Nova Scotia post-secondary institution is a recognized and respected foundation for your career and your life. If you can dream it, you can pursue it in Nova Scotia.
A world-class education
With 10 universities plus a community college system with 13 campuses and Learning Centres, there's plenty of program choice. Studying in Nova Scotia means receiving an education of the highest academic quality — one that will open doors for you anywhere in the world you choose to go.
Inspired learning
Growth and learning take place in and outside the classroom. Enhance your academic study in this pristine and beautiful province, which is almost completely surrounded by water. You'll find inspiration in our landscape, our clean salt air, our small towns as well as in our safe and dynamic capital city of Halifax.
Wherever you land in Nova Scotia, you'll find the perfect place to study, grow and to thrive. Find out more About Nova Scotia on the Nova Scotia Tourism website.